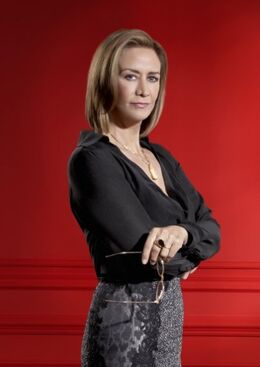 Played by Janet McTeer.
A former colleague of Patty Hewes, Franklin aims to take on Patty by working for Ellen Parsons. Her knowledge of Patty's practice makes her particularly valuable to Ellen. She is revealed in the "I'm Afraid of What I'll Find" to be Patty's sister (on their fathers side), therefore passionate about having Patty and their father make amends, not only as a lawyer, but also as a family member.
Background
Edit
Not much is given on her background in the final season of the series. What is known is that her father is Lyle Hewes, same as Patty Hewes, and that she has children of her own.
Kate Franklin is a lawyer who took a hiatus several decades before the series took place - so that she could raise her children. Not much is told about her career previously besides the fact that she took on Patty Hewes in one case in 1987. We later find out that her client was none other than Lyle Hewes. She lost the case, in which Patty & her mother sued Lyle for "everything he's worth". She is said to have balls for having taken on a case against Patty Hewes.
She returns to her profession in law when her youngest goes off to college. She approaches Ellen Parsons for a job as her first associate at Ellen Parsons & Associates. Throughout the 5th season she is seen to be an asset to the firm. Being competent and well informed, as well as a hard worker & loyal to Ellen. Franklin works as an associate on the case in which the firm represents Channing McClaren, who is being sued by Patty Hewes & Associates on behalf of Rachel Walling, who's mother is thought to have committed suicide because of events that occurred after Naomi Walling leaked information to McClaren's whistle blowing site.
During the time that this case is going on Franklin is still representing Lyle Hewes, as he sits on his death bed. At first trying to approach Patty on Lyle's behalf and when that fails she then approaches Michael Hewes. All in efforts to get one of them to sign off his land before he dies.