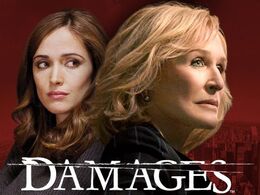 ← Season 1 ← Season 2 • Season 4 →
---
Season 3 of Damages premiered on January 25, 2010 on FX.
Season Overview
Edit
Patty Hewes is back in action, tackling the most challenging case of her illustrious career. Following up Patty's decisive victory over corrupt CEO Arthur Frobisher (Ted Danson) in Season 1 and her decimation of Ultima National Resources in Season 2, Patty Hewes has recently been appointed by the U.S. government to recover billions of dollars in stolen assets from the largest investment fraud in U.S. history, a fraud perpetrated by the esteemed financier Louis Tobin.
Inspired by recent events in the world's economic collapse, Season 3 showcases Damages signature legal-thriller storytelling as Patty Hewes takes on the Tobin family - a secretive clan determined to protect its interests at all costs. The Tobin family members have maintained their complete and total innocence. They claim not to have known anything about Louis Tobin's fraud. But Patty Hewes believes otherwise and will stop at nothing to prove it. Patty and her trusted lieutenant Tom Shayes (Tate Donovan) do battle against the Tobin family's trusted attorney Leonard Winstone (Martin Short), son Joe Tobin (Campbell Scott), and Louis Tobin's wife Marilyn (Lily Tomlin).
#
Image
Title
Airdate
01
Your Secrets Are Safe
January 25, 2010
No synopsis yet, click "Edit" to add one! ...


Read more →

02
The Dog Is Happier Without Her
February 1, 2010
No synopsis yet, click "Edit" to add one! ...


Read more →

03
Flight's at 11:08
February 8, 2010
No synopsis yet, click "Edit" to add one! ...


Read more →

04
Don't Throw That at the Chicken
February 15, 2010
No synopsis yet, click "Edit" to add one! ...


Read more →

05
It's Not My Birthday
February 22, 2010
No synopsis yet, click "Edit" to add one! ...


Read more →

06
Don't Forget to Thank Mr. Zedeck
March 1, 2010
No synopsis yet, click "Edit" to add one! ...


Read more →

07
You Haven't Replaced Me
March 8, 2010
No synopsis yet, click "Edit" to add one! ...


Read more →

08
I Look Like Frankenstein
March 15, 2010
No synopsis yet, click "Edit" to add one! ...


Read more →

09
Drive It Through Hardcore
March 22, 2010
No synopsis yet, click "Edit" to add one! ...


Read more →

10
Tell Me I'm Not Racist
March 29, 2010
No synopsis yet, click "Edit" to add one! ...


Read more →

11
All That Crap About Your Family
April 5, 2010
No synopsis yet, click "Edit" to add one! ...


Read more →

12
You Were His Little Monkey
April 12, 2010
No synopsis yet, click "Edit" to add one! ...


Read more →

13
The Next One's Gonna Go In Your Throat
April 19, 2010
No synopsis yet, click "Edit" to add one! ...


Read more →
Season 3 Cast
Edit