← Season 1 ← Season 2 • Season 4 →
---
Season 4 of Damages premieres on July 13, 2011 on DirecTV.
Season Overview
Edit
According to DirecTV.com]:
"The fourth season of
Damages
finds
Patty
and
Ellen
embroiled in a wrongful-death s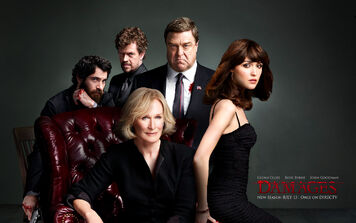 uit against a private military contractor,
Howard T. Erickson
(
John Goodman
). Erickson has made a fortune supplying the U.S. Government with security forces in Afghanistan and is protected by his connections within the highest echelons of power in Washington, D.C.
Chris Sanchez
(
Chris Messina
), a decorated soldier who now works for the security firm is drawn into the web of intrigue when Ellen and Patty set their sights on his corrupt employer. Complicating matters is
Jerry Boorman
(
Dylan Baker
), a shadowy opportunist with ties to both Erickson and the Middle East who is intimately involved in the season-long conspiracy at the heart of the lawsuit.
Griffin Dunne
will play a foreign correspondent who's looking to write a story about the embattled company,
Bailey Chase
will play Ellen Parson's love interest and
Judd Hirsch
as on old mentor of Patty's."
#
Image
Title
Airdate
01
Episode 4.1
July 13, 2011
Two years have passed since Patty and Ellen last worked together. Ellen has taken a position at Nye's firm, but her ultimate goal is to open her own practice. She reconnects with her high school friend, Chris Sanchez, who has recently returned from a stint at High Star, a private contractor in the Middle East. Unable to get assistance from the corporation or the government, Ellen decides to look into his case. Both her new boss and Patty warn Ellen about building a case against Howard Erickson and the High Star Security Corp.

Read more →

02
Episode 4.2
July 20, 2011
Ellen presents the High Star case to senior partners at Nye, Everett and Polk and Jessica Lowry, a widow of a High Star contractor. Chris learns his therapist was killed by a gas explosion, and he's paranoid someone is after him. Ellen offers to provide security for him, but he declines. Jerry Boorman orchestrated the explosion against Howard Erickson's knowledge. Erickson insists Chris isn't a threat, but Boorman insists on handling the situation his way.
03
Episode 4.3
July 27, 2011
Victor tells Patty he suspects Michael is in Boston since he had a few friends in the area right after he disappeared. Ellen sets up shop at Hewes & Associates and files the case against High Star despite Chris's absence.

Read more →

04
Episode 4.4
August 3, 2011
Ellen is visited by Nasim Marwat, the son of Chris Sanchez' Afghan contact, who gives her Chris's skull medallion. Patty reaches out to her former mentor, William Herndon, to help get government info on the "Double-Dees" inscription on the medallion. Herndon, now a raging alcoholic, warns Ellen about tangling with High Star.

Read more →

05
Episode 4.5
August 10, 2011

Ellen and Patty have decided to move Nasim to a safer place. Ellen escorts Nasim to his hotel to collect his belongings. Boorman poses as a cab driver. Just as Ellen and Nasim are about to enter Boorman's cab, Victor Huntley and a security team pick them up and take them to Hewes & Associates. Patty tells Ellen about Herndon's discovery on Dust Devil. She also informs Ellen about C.I.A.'s involvement, which means their phones could be bugged. Ellen connects "DD" with "Dust Devil."Read more →

06
Episode 4.6
August 17, 2011
Patty is still worried about Catherine's health. The nurse, Angel Auroro, suggests Patty tell Michael about Catherine's sickness. Patty shares that she doesn't know where Michael is.

Read more →

07
Episode 4.7
August 24, 2011
Patty continues her therapy sessions with Dr. Baldwin who confronts her about her legacy. Boorman tells Erickson Nasim was deported. Boorman wants Erickson to make a decision about Sanchez—either keep him locked up or get rid of him.

Read more →

08
Episode 4.8
August 31, 2011
Dean, the reporter that Ellen has been talking to, meets with a contact in Afghanistan and tells him he's looking Chris Sanchez. Boorman arrives at the safe house to find his girlfriend. She confronts him about the boy. Patty and Ellen depose Howard Erickson.

Read more →

09
Episode 4.9
September 7, 2011
Afghan men hired by one of Erickson's men transport Sanchez in the trunk of a vehicle without AC's knowledge. AC angrily calls Erickson and demands to know why he's not in the loop on moving Sanchez. He challenges Erickson for not including him after his years of loyalty.

Read more →

10
Episode 4.10
September 14, 2011
Carter stops Afghan men from killing Chris Sanchez. Ellen tells Erickson to make an offer to her clients and she will make sure the case is dropped as long as he produces evidence Sanchez is alive.

Read more →
Season 4 Cast
Edit
Ad blocker interference detected!
Wikia is a free-to-use site that makes money from advertising. We have a modified experience for viewers using ad blockers

Wikia is not accessible if you've made further modifications. Remove the custom ad blocker rule(s) and the page will load as expected.